Bwana Devil [1952] [DVD]
Robert Stack (actor)
Barbara Britton (actor)

Format: all-region dvd (worldwide)
Runtime: 79 min
Quality: Excellent, Colour.



British railway workers in Kenya are becoming the favorite snack of two man-eating lions. Head engineer Bob Hayward becomes obsessed with trying to kill the beasts before they maul everyone on his crew.
Price: £14.95





FREE worldwide shipping
This item is in stock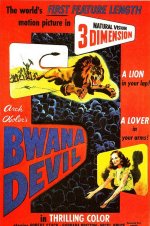 click for full size
Bwana Devil
[1952] [DVD]