Time out of Mind [1947] [DVD]
Phyllis Calvert (actor)
Robert Hutton (actor)

Format: all-region dvd (worldwide)
Runtime: 1h 28m
Quality: Good. 4:3



Period piece about a rich American family and a beloved servant who endears herself to them and the beautiful but nasty rich woman who marries into the family. The oxygen is supplied in support by the now forgotten stunning Miss Helena Carter. She with her striking good looks and overly sophisticated voice adds a bit of nastiness and snobbery to the whole proceedings as that rich nasty woman.
Price: £14.95





FREE worldwide shipping
This item is in stock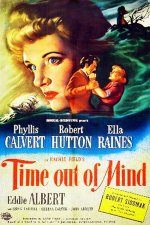 click for full size

Time out of Mind
[1947] [DVD]