Those Redheads from Seattle [1953] [DVD]
Rhonda Fleming (actor)
Gene Barry (actor)

Format: all-region dvd (worldwide)
Runtime: 90 min
Quality: Very good, 4:3



The freedom of the press is in jeopardy and it takes a hot-blooded redhead to preserve it. She is Rhonda Fleming, the daughter of a murdered newspaper man up in the Klondike. Along with her mother and three sisters (as well as a pregnant cat named President McKinley), they travel up north from Seattle into the Canadian wilds and face the horrifying truth about the corruption there.
Price: £14.95





FREE worldwide shipping
This item is in stock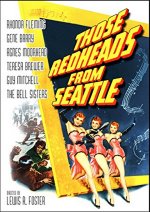 click for full size
Those Redheads from Seattle
[1953] [DVD]