This'll Make You Whistle [1936] [DVD]
Jack Buchanan (actor)
Ellie Randolph (actor)

Format: all-region dvd (worldwide)
Runtime: 1h11m
Quality: Very Good, b/w, 4:3



From imdb ~ A young man is pursued by his fiancee after a quarrel. She sends her uncle to investigate him and to give his consent to the marriage. The young man gives a wild party in order to shock the uncle but he enjoys himself thoroughly.
Price: £14.95





FREE shipping included
This item is in stock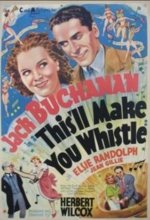 click for full size
This'll Make You Whistle
[1936] [DVD]