They Made Her A Spy [1939] [DVD]
Sally Eilers (actor)
Allan Lane (actor)

Format: all-region dvd
Runtime: 1h9m
Quality: Excellent 4:3 b/w



When her brother is killed in the mysterious explosion of a new field-gun for the U. S. Army, Irene Eaton goes to Washington D. C. to call upon Colonel Shaw, head of the Army Military Intellegence. The gun explosion was just one of many acts of sabotage recently pulled off by a foreign sabotage gang. Shw and his aides are the subject of increasing criticism from Congressmen and politicians such as Everett Brock because they haven't captured the gang members and leaders. Shaw appoints Irene to root them out and sends her off to the Dome Cafe which is the headquarters of the gang. ~ imdb.
Price: £14.95





FREE worldwide shipping
This item is in stock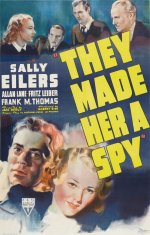 click for full size

They Made Her A Spy
[1939] [DVD]