The Virtuous Sin [1930] [DVD]
Walter Huston (actor)
Kay Francis (actor)

Format: all-region dvd (worldwide)
Runtime: 1h 20m
Quality: Excellent 4:3 b/w



Marya (Kay Francis) gets friendly with Gen. Platoff (Walter Huston) in order to save her husband Victor (Kenneth MacKenna) from being executed. This involves sleeping with him. The outcome may not be what you expect.
Price: £14.95





FREE worldwide shipping
This item is in stock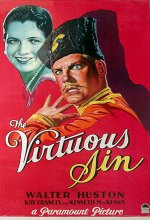 click for full size

The Virtuous Sin
[1930] [DVD]