Frank, Liza & Sammy - The Ultimate Event [1989] [DVD]
Fank Sinatra (actor)
Liza Minelli (actor)
Sammy Davis Jr. (actor)

Format: all-region dvd
Runtime: 1h28m
Quality: Excellent vhs transfer 4:3 (colour)
Dispatch time: 48 hours



This special was shown on television just before Sammy Davis, Jr. would die of cancer. This was recorded over a three night stay at the Fox Theatre in Detroit and was a part of the "Ultimate Event" tour, which featured the three legends doing a greatest hits type of package. Show opens with the stars flying in to Detroit. From this point we get Sammy's set first then followed by Liza and finally Sinatra comes out before the three are reunited for the encore.
Price: £14.95





FREE worldwide shipping
This item is in stock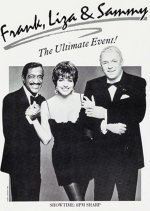 click for full size

Frank, Liza & Sammy
The Ultimate Event
[1989] [DVD]