The Three Kings [1987] [DVD]
Lou Diamond-Phillips (actor)
Jack Warden (actor)

Format: all-region dvd (worldwide)
Runtime: 88 min
Quality: Very Good



A Christmas story about three inmates from a mental institution who believe they are The Three Wise Men of the Bible. They escape on camelback into the urban sprawl of Los Angeles in a whimsical search for the Christ child.

This very rare film is highly regarded by many as one of the best Christmas films ever made. By default this is an all-region PAL dvd, if you need ntsc format please send us a message via the contact page above.
Price: £14.95





FREE worldwide shipping included
This item is in stock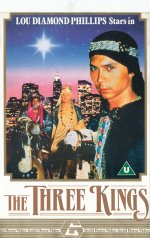 The Three Kings
[1987] [DVD]