The Switch [1963] [DVD]

Anthony Steel (actor)
Zena Marshall (actor)

Format: all-region
Runtime: 1h9m
Quality: Excellent, b/w, 15:9



A classic British B-movie crime thriller of the kind they regularly churned out in the 1950s; by the time of the early '60s, a few were still being made. This one has Zena Marshall being kidnapped by a gang smuggling wristwatches (!) and Anthony Steel as the customs guy on their trail.
Price: £14.95





FREE shipping included
This item is in stock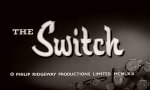 click for full size

The Switch
[1963] [DVD]