The Spy With A Cold Nose [1966] [DVD]
Laurence Harvey (actor)
Eric Sykes (actor)
Lionel Jeffries (actor)
Daliah Lavi (actor)

Format: all-region dvd (worldwide)
Runtime: 93 min
Quality: Excellent, 4:3, colour



This is a classic British comedy that is a must see for fans of the era. Full of great British actors from comic geniuses to the stiff upper lipped - Denholm Elliot and Eric Portman are excellent in comedy roles.

The story is based around a suburban spy who has plans to spy on the Russians by implanting a radio device into a dog aided by a vet (with a terrible secret).

Very British and old-fashioned comedy!
Price: £14.95





FREE worldwide shipping
This item is in stock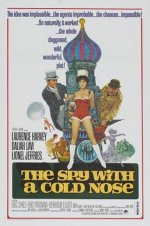 click for full size
The Spy With A Cold Nose
[1966] [DVD]