The Spaniard's Curse [1958] [DVD]
Tony Wright (actor)
Lee Patterson (actor)
Michael Hordern (actor)
Susan Beamont (actor)

Format: all-region
Runtime: 1h11m
Quality: Digital, b&w, w/s



This is a mystery thriller about a man wrongly accused of a murder. In court he protests his innocence and before being led away he declares the Spaniards Curse, which inevitably leads to a few deaths. Could the curse be real?
Price: £14.95





FREE shipping included
This item is in stock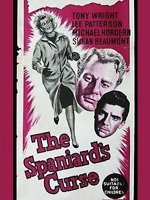 click for full size

The Spaniard's Curse
[1958] [DVD]