The Silent Raiders [1954] [DVD]
Richard Bartlett (actor)
Earle Lyon (actor)

Format: all-region dvd (worldwide)
Runtime: 1h 5m
Quality: Excellent 4:3 b/w



A gritty, low-budget, WWII drama high-lighted by fine performances from a cast of virtual unknowns. A commando team lands on the beach just prior to D-Day to knock out a Nazi communications center. Stars Lyon and Bartlett turn-out great drama. Lyon wrote and performed the haunting title song.
Price: £14.95





FREE worldwide shipping
This item is in stock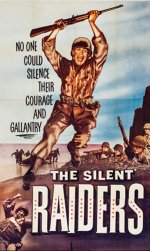 click for full size

The Silent Raiders
[1954] [DVD]