The Riddle of the Stinson [1988] [DVD]
Jack Thompson (actor)
Helen O'Connor (actor)

Format: all-region dvd (worldwide)
Runtime: 100 min
Quality: Excellent vhs transfer.
Please note this is from a tv broadcast and there are some on-screen messages.



In 1937 a passenger / mail plane goes down somewhere between Brisbane and Sydney. That's bad enough, but to make matters worse the captain had to change course to avoid a storm ahead of them and wasn't able get through on the radio before they went down. Consequently the search and rescue team are looking in the wrong place for the survivors. The hopelessness of the survivors is graphically shown in all its raw detail even to the fact that the forest canopy is hardly marked where the plane went in adding even more to their terrible plight. A truly excellent piece of work by all concerned.

This made-for-tv Australian movie is a masterpiece and made even more captivating because it is a true story.
Price: £14.95





FREE worldwide shipping
This item is in stock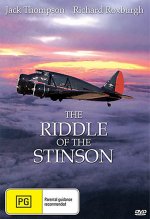 click for full size
The Riddle of the Stinson
[1988] [DVD]