The Return of Mr Moto [1965] [DVD]
Henry Silva (actor)
Terence Longdon (actor)

Format: all-region dvd (worldwide)
Runtime: 71 min
Quality: Excellent, w/s, b/w



Sinister forces are behind the blowing up of wells in an attempt to gain control of key oil fields. Moto is assigned by British-based Beta Oil Corporation and the Foreign Office to discover who is conspiring to control the oil leases of the petroleum-rich emirate of Wadi Shammar. After an attempt on his life fails, Moto goes undercover disguised as a Japanese businessman discovers a plot against the life of the Shahrdar of Wadi Shammar. Moto is aided in his efforts by beautiful Beta Oil secretary Maxine Powell and Police Inspector Jim Halliday.
Price: £14.95





FREE worldwide shipping
This item is in stock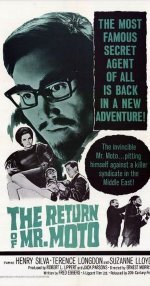 The Return of Mr Moto
[1965] [DVD]