The Notorious Sophie Lang [1934] [DVD]
Gertrude Michael (actor)
Paul Cavanagh (actor)

Format: all-region dvd (worldwide)
Runtime: 1h03m
Quality: Very good for it's age (unrestored), b/w, 4:3



After an extended stay in England, Sophie Lang returns to America. She is beautiful, sophisticated and a notorious jewel thief. A New York police detective who's been trying to nail her finally comes up with what seems a foolproof scheme - to catch her off guard by having her fall for a handsome and suave jewel thief who happens to be in the U.S. traveling under an assumed name.
Price: £14.95





FREE shipping included
This item is in stock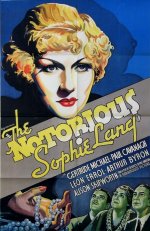 click for full size

The Notorious Sophie Lang
[1934] [DVD]