The Man in Black [1950] [DVD]
Betty Ann Davies (actor)
Sidney James (actor)
Anthony Forwood (actor)
Sheila Burrell (actor)

Format: all-region dvd (worldwide)
Runtime: 1h18m
Quality: Good (restored), 4:3, b/w.



Henry Clavering suspects his second wife Bertha is trying to drive his daughter (by his first marriage) insane, to stop her inheriting his money. He decides to use his yoga skills to pretend to be dead, and thereby expose her villainy.
Price: £14.95





FREE shipping included
This item is in stock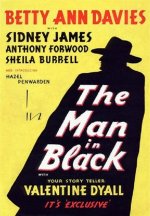 click for full size

The Man in Black
[1950] [DVD]