The Hole in the Wall [1929] [DVD]
Edward G. Robinson (actor)
Claudette Colbert (actor)

Format: all-region dvd (worldwide)
Runtime: 63 min
Quality: Good, 4:3, b/w



Mrs. Ramsey sent Jean Oliver to prison on a false charge. To get even, Jean (disguised as Madame Mystera) plans to kidnap her daughter and turn her into a thief. Love entanglements with a gangster known as "The Fox" and newspaperman Grant complicate her plans.
Price: £14.95





FREE worldwide shipping
This item is in stock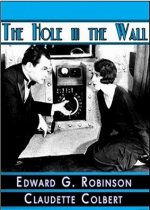 click for full size
The Hole in the Wall
[1929] [DVD]