The Gay Adventure [1949] [DVD]
Burgess Meredith (actor)
Jean-Pierre Aumont (actor)
Paula Valenska (actor)

Format: all-region dvd (worldwide)
Runtime: 1h22m
Quality: Unrestored, b/w, 4:3



The Gay Adventure (aka Golden Arrow and also Three Men and a Girl) is a 1949 British comedy film directed by Gordon Parry and starring Burgess Meredith, Jean-Pierre Aumont and Paula Valenska. It was shot at Teddington Studios. The film was eventually released as a second feature, despite a reasonably high budget and well-known cast.
Price: £14.95





FREE shipping included
This item is in stock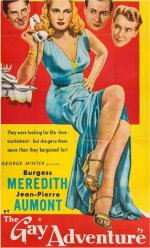 click for full size

The Gay Adventure
[1949] [DVD]