The Fleet's In [1942] [DVD]
Dorothy Lamour (actor)
William Holden (actor)

Format: all-region dvd (worldwide)
Runtime: 1h33m
Quality: Excellent, b/w, 4:3.



Shy sailor Casey Kirby suddenly becomes known as a sea wolf when his picture is taken with a famous actress. His buddies then make a bet with some other sailors that Casey can defrost an icy night club singer known as the Countess.
Price: £14.95





FREE shipping included
This item is in stock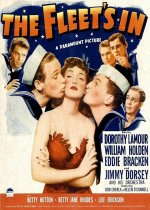 click for full size

The Fleet's In
[1942] [DVD]