The End of the Road [1954] [DVD]
Finlay Currie (actor)
Duncan Lamont (actor)

Format: all-region dvd (worldwide)
Runtime: 73 min
Quality: Excellent, b/w, 4:3
Audio: English
*TP Logo



Sentimental drama starring Finlay Currie as a worker forced into retirement.

An old man reaches compulsory retirement age, but causes chaos for his family with his refusal to give up working. It is only when he solves a tricky problem that they realise his vast experience is still required. Currie puts in a sterling performance.
Price: £14.95





FREE worldwide shipping
This item is in stock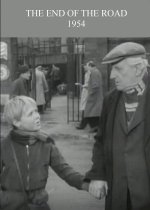 The End of the Road
[1954] [DVD]