The Brighton Strangler [1945] [DVD]
John Loder (actor)
June Deprez (actor)

Format: all-region dvd
Runtime: 1h7m
Quality: Excellent 4:3



During WW II, one of the hits of the London stage is a play about a murderer who strangles his victims. The actor who plays the strangler identifies so strongly with his part that when he receives a blow to the head during a bombing raid, he believes that he actually is the strangler. ~ imdb.
Price: £14.95





FREE worldwide shipping
This item is in stock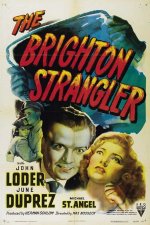 click for full size

The Brighton Strangler
[1945] [DVD]