The Black Bird [1975] [DVD]
George Segal (actor)
Stéphane Audran (actor)

Format: all-region dvd (worldwide)
Runtime: 1h 50m
Quality: Very good. 4:3



The son of famous detective Sam Spade carries on the family tradition of getting involved with the Maltese Falcon - and with the people who will stop at nothing, including murder, to get it.

Decent spoof movie! Politically incorrect in today's society it's understandable why it's not been released but it is certainly better than it's imdb rating of 5.3. There are several scenes you will literally laugh out loud!
Price: £14.95





FREE worldwide shipping
This item is in stock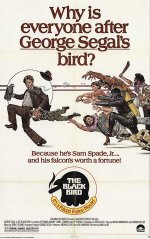 click for full size

The Black Bird
[1975] [DVD]