Sebastian [1968] [DVD]
Dirk Bogarde (actor)
Susannah York (actor)

Format: all-region dvd (worldwide)
Runtime: 100 min
Quality: Excellent, 4:3, Colour.



A semi-spoof of Swinging Sixties spy stories that spends so long delighting in its own ingenuity that it forgets it has a tale to tell and then tries to pack so much plot into the final third that its careful characterisation and smart satire go out of the window. The tensions within John Gielgud's eavesdropping unit are far more intriguing than spymaster Ronald Fraser's attempts to compromise codebuster Dirk Bogarde, and the cast seems more at ease with the knowing humour and hushed tones of this opening segment than it does with the blaring muzak and trippy dreams of the finale. Look out for Donald Sutherland in a minor role.
Price: £14.95





FREE worldwide shipping
This item is in stock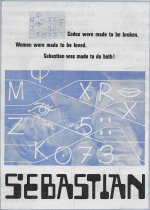 Sebastian
[1968] [DVD]