Samson in King Solomon's Mines [1964] [DVD]
Reg Park (actor)
Wandisa Guisa (actor)

Format: all-region dvd (worldwide)
Runtime: 92 mins, English audio.
Quality: Excellent, w/s (2.35:1), colour



Our hero Maciste eschews tunic for loin cloth as he's hanging out in the African jungle and living the Tarzan life. A traitorous minister in the city of Zimba which sits atop the legendary King Solomon's mines pulls a palace coup and the queen of a neighboring tribe of hunters takes over as queen. She enslaves the population to work in the gold mines. Funny as I remember King Solomon's mines they were diamond mines.
Price: £14.95





FREE worldwide shipping
This item is in stock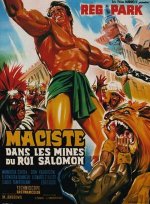 Samson in King Solomon's Mines
[1951] [DVD]