Remedy for Riches [1940] [DVD]
Jean Hersholt (actor)
Dorothy Lovett (actor)

Format: all-region dvd (worldwide)
Runtime: 1h
Quality: Good for it's age (unrestored), b/w, 4:3



A college friend of the local soda-jerk comes to town and lets it be known that he's looking for property on which to build a resort. When he buys some land and suddenly "discovers" there's oil underneath it, he generously offers to sell the townspeople shares in his newly found oil reserves. Dr. Christian suspects a swindle and sets out to prove it.
Price: £14.95





FREE shipping included
This item is in stock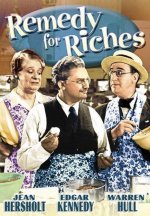 click for full size

Remedy for Riches
[1940] [DVD]