Rampage at Apache Wells [1965] [DVD]
Stewart Granger (actor)
Pierre Brice (actor)

Format: all-region dvd (worldwide)
Runtime: 89 min
Quality: Excellent. w/s letterboxed.



A ruthless oil baron sells nonexistent oil fields near the Shindler Lake. When innocent farmers seem to disturb his 'business', he kills the son of Mokashee, chief of the Indians. Winnetou and Old Surehand try to prevent a war between cowboys and Indians...
Price: £14.95





FREE worldwide shipping
This item is in stock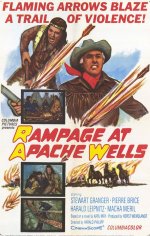 Rampage at Apache Wells
[1965][DVD]