Passport to Destiny [1944] [DVD]
Elsa Lanchester (actor)
Gordon Oliver (actor)
Lenore Aubert (actor)

Format: all-region dvd (worldwide)
Runtime: 1h
Quality: Good, b/w 4:3



A British cleaning woman believes a glass eye has magical powers that will protect her from harm. She travels from London to Berlin and manages to obtain a job as a cleaning woman at Hitler's headquarters. However, her assassination plan is foiled. But, she and other secret agents manage to escape to London during RAF bombing raid of the Reich Chancery.
Price: £14.95





FREE shipping included
This item is in stock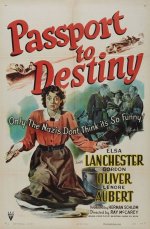 click for full size

Passport to Destiny
[1944] [DVD]