Nadia [1984] [DVD]
Leslie Weiner (actor)
Joe Bennett (actor)

Format: all-region dvd (worldwide)
Runtime: 99 min
Quality: Digital



Leslie Weiner plays the part of the young Nadia Comaneci, discovered at the age of five by Bela Karolyi who scouted schools looking for young Romanian girls to form a new gymnastics club.

With his guidance he takes Nadia to the 1976 Montreal Olympics where she becomes the first gymnast in history to score the perfect 10. The performances are brilliant in this originally made-for-tv movie which was made just after Nadia retired from the international spotlight.

"Nadia (1984)" is presented in digital fullscreen dvd format [4:3]. The dvd is dispatched brand new and sealed and makes the perfect gift.
Price: £14.95





FREE worldwide shipping
This item is in stock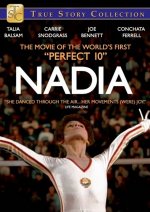 Nadia
[1984][DVD]