Matinee Idol [1933] [DVD]
Camilla Horn (actor)
Miles Mander (actor)

Format: all-region dvd (worldwide)
Runtime: 58 min
Quality: 16mm transfer, b/w



Not so much a whodunit as a who didn't do it. All potential suspects to the killing of that cad Miles Mander confessing for a variety of reasons. At the end we discover what happened through such a silly device that it will make you laugh rather than keep you in suspense.
Price: £14.95





FREE worldwide shipping
This item is in stock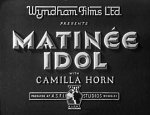 Matinee Idol
[1933] [DVD]