Lock Up Your Daughters [1969] [DVD]
Christopher Plummer (actor)
Susannah York (actor)
Jim Dale (actor)
Roy Kinnear (actor)

Format: all-region dvd (worldwide)
Runtime: 1h42m
Quality: Excellent, w/s, colour.



This late 60s comedy was actually quite big budget and full of great actors. It's raunchy but wouldn't deserve the X rating it had back then.

Christopher Plummer is hilarious as Lord Foppington who has his daughter's chastity in mind as three lusty sailors come looking for girlfriends in 18th century London.

It's a forgotten classic that will surely one day achieve cult status.
Price: £14.95





FREE shipping included
This item is in stock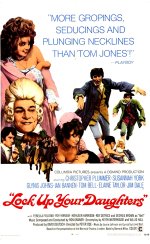 click for full size

Lock Up Your Daughters
[1969] [DVD]