Lady Be Careful [1936] [DVD]
Lew Ayres (actor)
Mary Carlisle (actor)

Format: all-region dvd
Runtime: 1h12m
Quality: Excellent 4:3 (b/w)



Filmed in 1936 this comedy is about US sailors chasing th girls in port during shore leave. Some of these girls are high-society and play very hard to get. The bets are on as handsome Lew Ayres tries to win the heart of Mary Carlisle.
Price: £14.95





FREE worldwide shipping
This item is in stock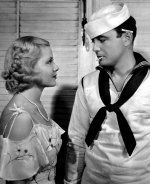 click for full size

Lady Be Careful
[1936] [DVD]