Joe Smith, American [1942] [DVD]

Robert Young (actor)
Marsha Hunt (actor)

Format: all-region dvd (worldwide)
Runtime: 1h2m
Quality: Digital, 4:3, b/w
*brief TCM logo on screen.


Joe Smith is an average American citizen, working in an aircraft factory. He has access to the plans for a new bomb-site and is kidnapped by enemy agents who unsuccessfully torture him to get him to betray his country..

This film deals with a man called Joe Smith, (Robert Young), who works in a airplane factory and is assigned to working on a new bomb-site and has knowledge of the blue prints which are top secret. Joe is married to Mary Smith (Marsha Hunt) and they are a very happy couple until one day Joe is kidnapped by four men who want all the information concerning Joe's knowledge of the plans..
Price: £14.95





FREE shipping included
This item is in stock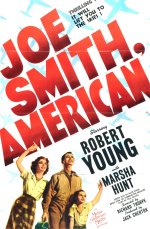 click for full size

Joe Smith, American
[1942] [DVD]