It Happens Every Thursday [1953] [DVD]
Loretta Young (actor)
John Forsythe (actor)

Format: all-region dvd (worldwide)
Runtime: 1h 20m
Quality: Very good. 4:3



From IMDB: New York reporter Bob MacAvoy is persuaded by pregnant wife Jane to buy a broken-down weekly newspaper in Eden, California. They have humorous problems with small town mores and eccentric citizens. But their schemes to increase circulation get them in over their heads.
Price: £14.95





FREE worldwide shipping
This item is in stock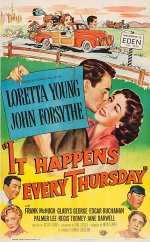 click for full size

It Happens Every Thursday
[1953] [DVD]