International Lady [1941] [DVD]
Goerge Brent (actor)
Basil Rathbone (actor)

Format: all-region dvd (worldwide)
Runtime: 102 min
Quality: Good b/w (letterboxed)



In this 1941 film, Illona Massey stars as a breathtakingly beautiful musician and just about every man in the audience has an eye on her especially a duo of American and British Agents who know that she's actually a Nazi Spy and start chasing her through the cities of New York and London.This movie is an excellent, seductive spy thriller.

It all starts during the blitz in London. Fantastic vintage footage includes New York from the air.
Price: £14.95





FREE worldwide shipping
This item is in stock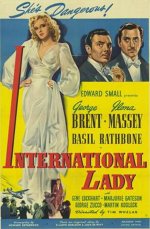 click for full size
International Lady
[1941] [DVD]