I Was a Prisoner on Devil's Island [1941] [DVD]
Sally Eilers (actor)
Donald Woods (actor)

Format: all-region dvd (worldwide)
Runtime: 1h 12m
Quality: Good 4:3 b/w



Joel Grant (Donald Woods) goes ashore for the evening to enjoy a carnival. There he meets Claire (Sally Eilers) only to discover she is already married to Dr. Martel who she doesn't love at all. She decides she wants a divorce and Joel decides to quit the ship only to be confronted by the captain who refuses to grant his wish. They fight and he leaves believing he's just knocked the captain out. Claire then tells her husband she wants a divorce but he refuses and tells her he is going to be the doctor on Devil's Island. Joel is then arrested for robbery and murder and his plea of self defence is rejected. He refuses to give a reason for wanting to leave the boat because Claire is in the courtroom with her husband. Joel then gets sent to Devil's Island for 3 years...
Price: £14.95





FREE worldwide shipping
This item is in stock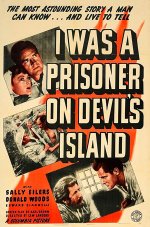 click for full size

I Was a Prisoner on Devil's Island
[1941] [DVD]