I Want a Divorce [1940] [DVD]
Joan Blondell (actor)
Dick Powell (actor)

Format: all-region dvd (worldwide)
Runtime: 90m
Quality: Very Good, 4:3, b/w.



Alan and Geraldine MacNally are a married couple, who are doubting if they did the right thing by marrying each other. Meanwhile, David and Wanda Holland are in the final stages of their divorce. It so happens Alan is the attorney who arranges their divorce.
Price: £14.95





FREE worldwide shipping
This item is in stock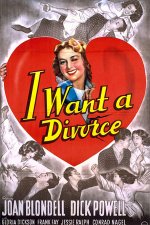 click for full size

I Want a Divorce
[1940] [DVD]