Guilty as Hell [1932] [DVD]

Edmund Lowe (actor)
Victor McLaglen (actor)

Format: all-region dvd (worldwide)
Runtime: 1h20m
Quality: Very Good, 4:3, b/w



Doctor Henry Stephenson calmly strangles his wife, walks out the front door and goes to a medical conference to lecture his audience on "How to Grow Old". By the time Police Homicide Captain Victor Maclaglen and reporter Edmund Lowe show up, the dead woman's lover, Richard Arlen, is set up to be framed. When Lowe sees Arlen's sister, he decides that anyone with a sister as lovely as that can't be a murderer.. ~ imdb

"Pre-Code Hollywood is a gift that just keeps giving; and the latest neglected gem to come my way is this cracking little comedy-thriller in which perennial sparring partners Victor McLaglen and Edmund Lowe play a detective and a reporter, the former seemingly impotent to prevent the latter from forever implausibly barging into his office and into crime scenes with impunity and in the process constantly winding him up. Based on a play by Daniel N. Rubin called "Riddle Me This", the fun is as fast and as furious as Lowe repeatedly gets McLaglen. There's plenty of witty talk delivered by a dream supporting cast, while director Erle C. Kenton gives cameraman Karl Struss his head with some truly incredible camerawork, including close close-ups that underline key moments as if the high voltage acting hasn't already done it's bit to ensure it has your attention. Enthusiastically recommended."

Read more imdb reviews

here

.
Price: £14.95





FREE shipping included
This item is in stock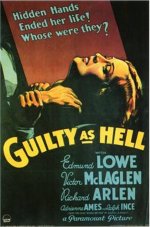 click for full size

Guilty as Hell
[1932] [DVD]