Glamour for Sale [1940] [DVD]
Anita Louise (actor)
Roger Pryor (actor)

Format: all-region dvd (worldwide)
Runtime: 1h
Quality: Excellent 4:3



This film is about a ring of crooks who operate escort services that shake down customers. They put them in a compromising situation and then blackmail folks for money. The police decide to investigate and one of the folks they follow is Ann (Anita Louise). When they are convinced she's legitimate*, they approach her and ask her to go undercover to investigate one of the worst of these shakedown artists.
Price: £14.95





FREE worldwide shipping
This item is in stock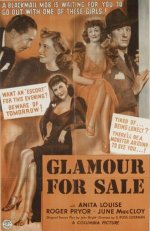 click for full size

Glamour for Sale
[1940] [DVD]