Evensong [1934] [DVD]
Evelyn Laye (actor)
Fritz Kortner (actor)

Format: all-region dvd (worldwide)
Runtime: 1h 27m
Quality: Very good 4:3 b/w



The life of Australian soprano Dame Nellie Melba gets a fictional work out with charming Evelyn Laye playing a tempestuous Irish soprano who sacrifices two men who love her - a young student (Emlyn Williams) and an Archduke (Carl Esmond) - for a career in opera in which she is supplanted eventually by a younger singer (Conchita Supervia). Old fashioned stolid musical drama covers several decades with Laye performing excerpts from "La Traviata" and being bossed around by the impresario for whom she performs played by acclaimed German stage star Fritz Kortner who escaped Nazi Germany and eventually settled in Hollywood. Laye has great screen presence.
Price: £14.95





FREE worldwide shipping
This item is in stock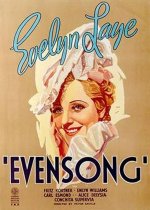 click for full size

Evensong
[1934] [DVD]