Desert of Lost Men [1951] [DVD]

Allan Lane (actor)
Black Jack (actor)
Irving Bacon (actor)

Format: all-region dvd (worldwide)
Runtime: 54m
Quality: Excellent, 4:3, b/w.



Landers and gang are after money intended for a new hospital. Lane and the Sheriff have a plan to trap them. But Landers hears of it and Lane is captured and the Sheriff's posse diverted. This clears the road for the gang to rob the stage bringing the money.
Price: £14.95





FREE shipping included
This item is in stock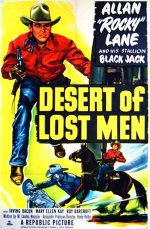 click for full size

Desert of Lost Men
[1951] [DVD]