City in Fear [1980] [DVD]
David Janssen (actor)
Robert Vaughan (actor)
Mickey Rourke (actor)

Format: all-region dvd (worldwide)
Runtime: 2h04m
Quality: Acceptable, colour, 4:3.



A psycho-on-the-loose story, about a burned-out newspaper columnist and his circulation-hungry publisher who wants him to turn the killer into Page One news. ~ imdb

Note, this is a transfer to dvd from the youtube video done as a customer request. The quality is not great and has some dropouts and adverts but it's of significant interest to David Janssen fans to be on the website. Imdb states the runtime should be 2 and ½ hours but this is 25 minutes shorter than that.
Price: £14.95





FREE shipping included
This item is in stock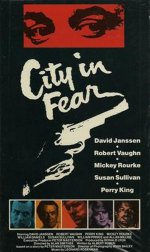 click for full size

City in Fear
[1980] [DVD]