Captain Pirate [1952] [DVD]
Louis Hayward (actor)
Patricia Medina (actor)

Format: all-region dvd (worldwide)
Runtime: 1h 25m
Quality: Excellent 4:3



The notorious Captain Blood is forced out of retirement when his West Indies home is raided and he is accused of pirating again. His fiancee helps him escape and steal a ship. The rest of this swashbuckler follows his attempts to prove his innocence and bring the man using his name to justice.
Price: £14.95





FREE worldwide shipping
This item is in stock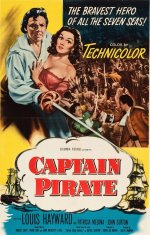 click for full size

Captain Pirate
[1952] [DVD]