13 Fighting Men [1960] [DVD]
Grant Williams (actor)
Brad Dexter (actor)

Format: all-region dvd (worldwide)
Runtime: 69m
Quality: Very good. b/w, 4:3, letterboxed titles, occasional onscreen logo.



Though the War Between The States has officially ended, a group of Confederate soldiers continues to fight for their own cause, laying siege to a small group of Union soldiers holed up in a farmhouse who are guarding a substantial amount of gold coins for a federal agent.
Price: £14.95





FREE worldwide shipping
This item is in stock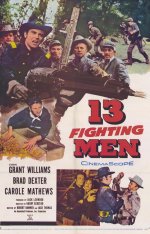 click for full size

13 Fighting Men
[1960] [DVD]